I have a great contest you can join and be a part of starting November 21st to 25th, 2015. A Cosmetics Give Away for Thanksgiving.  I would like for you all to do the the contest. It is easy and fun. You can enjoy doing the contest and win high quality Motives Cosmetics products.
I am giving away your choice of a weapon.
My Beauty Weapon
My Party Weapon
Purpose of the Contest is to see who can receive the most Shares and Likes off of the Original Post and to have fun

Date of Contest November 21, 2015 – November 25, 2015 at 9:30 PM EST
Contest Rules:
Share the post link with as many followers Twitter, Facebook, Instagram and or Pintrest
Send me the links by Direct Message on Facebook, Instagram or Twitter
Respond to this exact post commenting about the contest.
Sign up on NaomiCook.com/motives-cosmetics-give-away
Create an Online Motives Cosmetics Party which is a big bonus
Use HashTag #ChooseBeautyWeapon
http://www.motivescosmetics.com/naomicookglobal/host/host-a-motives-party     The party must be online.
I am only counting how many shares, retweets, reposts, and commenting you receive on your social media and blog post; counting how many signups on the site. Make sure they state who referred them under referral name.
The winner will be Announced on Thanksgiving Evening
           Motives® My Beauty Weapon
Includes 2 Lip Shines, 9 Eye Shadows and 3 Tutorials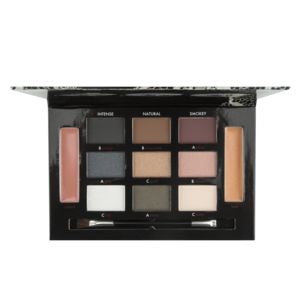 An essential weapon in any woman's beauty arsenal. This palette features nine hot eye shadows and two tempting lip glosses with an easy-to-follow tutorial on how to achieve your favorite looks.
Features nine complementary colors of eye shadow that can be mixed and matched and two lip gloss shades
Includes a tutorial to help you create three different looks – intense, natural and smokey
All colors can be worn wet or dry
Perfect for travel
Motives® My Party Weapon
Includes six Eye Shadows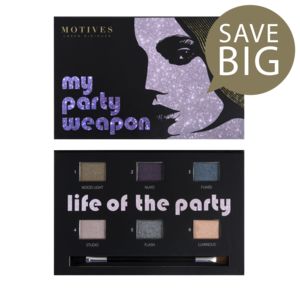 Ready, set, party! As the newest, hottest collection of exclusive colors for your beauty arsenal, My Party Weapon features six build-able shadows with intense color payoff and a creamy texture that applies effortlessly. Layer these irresistible shades into two mesmerizing looks that scream "life of the party."