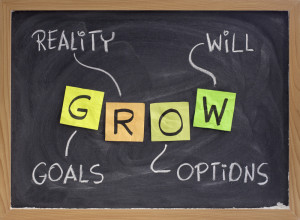 Are you one of those small business owners who wish to experience growth in the industry that you are into? Wishing of growing yourself  but could never picture out where and when will it happen? Have you ever felt stuck and cannot move in life, and don't know what to do anymore to achieve what you want? Are you tired of taking chances, risking opportunities, time and effort only to find out in the end that you have gained nothing? If everything you've done hasn't been useful in growing yourself, well then, it's time for you to change your ways and use the other side of the coin!
Growth demands change. And everyone who wishes to experience growth should also adapt to changes, not just to your ways and strategies but also to yourself, may it be a minor or a complete 180-degrees change. Remember, those who are brave enough to accept every challenge of change are usually the ones who are successful in their chosen fields. And your acceptance to this challenge of change can take your online business to the next step. It could lead you to growing yourself more efficiently in every areas of your life.
One good way to start growing yourself is to take coaching sessions. We all do have peers and other people whom we can share with everything about life and even our businesses. But it's different when you have someone who could tell and guide you on the next steps that you have to take. Someone who are more knowledgeable than you are; one who has ideas and insights that would help you become the best in everything. Taking coaching sessions will surely help you understand more what your life is all about.
In order to fully grow, one should understand what really growing means. Once you understand what it means, understanding your purpose is very easy then. Following are some important tips you should remember especially when you are still in the beginning of the process of growing yourself.
G – Goals. In order to experience growth and experience success, you should set your goals first. You can never reach anything without a goal. In setting up your goals, make sure they are feasible and are on the same road. Make sure each of your goals meet the same result in the end, as for you to have focus on what you want to achieve. Also, align it with your interests and keep track of your progress in each day. Best is to jot it down so that as you look at it, you will know how far you have gone. Considering coaching in establishing your goals is also a great way to start growing yourself too for they help you create goals that are measurable, specific, both short-term and long-term, and of course, one which you could really visualize yourself achieving.
R – Reality. In growing yourself, you should focus on the reality. One common mistake of people in the business industry is they focus too much in dreaming and forgot how to make their dreams come true. It is important to dream – big dreams and even just small dreams for yourself, family, and career, but it is more important to wake up to the reality and make those dreams come true. The sooner you make those dreams come into reality, then you can dream another dream, much bigger than what you have just achieved in reality.
O – Options. Life they say is a matter of choice, and indeed, it's true. From the moment we step out on our own into this world, we are bombarded with too many options on which path to take. In growing yourself, your options will lead you to where you want to go. Once you choose between the options that life and the world is offering you, consider ones that would make you become the best in everything; options that help you grow more and become a better person.
W – Will. Last but never the least, is your will. Setting up goals and making options in life will never let you fully grow yourself if it is not according to your will. Anyone who wants to embrace change must embrace it willingly, not just because they have to. Once you learn to embrace change wholeheartedly, then surely you will have true happiness which will make growing yourself more efficient and successful.